Delta Drift Follies (2018)

---



Delta Drift Follies is a five-part suite of concept designs for a flotilla of experimental watercraft conjured from site-specific vernacular architectural and ecological conditions and constraints.
The project seeks to playfully engage with an alchemy of site and invites speculation on what opportunities confusing, informal places might present to citizens to determine their own new appreciation of place. Loosely tied to each of the five primary senses with which we experience place, these five tools/interventions suggest open narratives as a celebration of "loose" space: un-privatized, un-programmed, and open to interpretation in an era when public lands are under renewed threat of privatization or neglect.

This project was completed along with a written thesis to fulfill MFA requirements in the UC Davis Department of Design graduate program in design and design research. (Specialization in Exhibition Design.)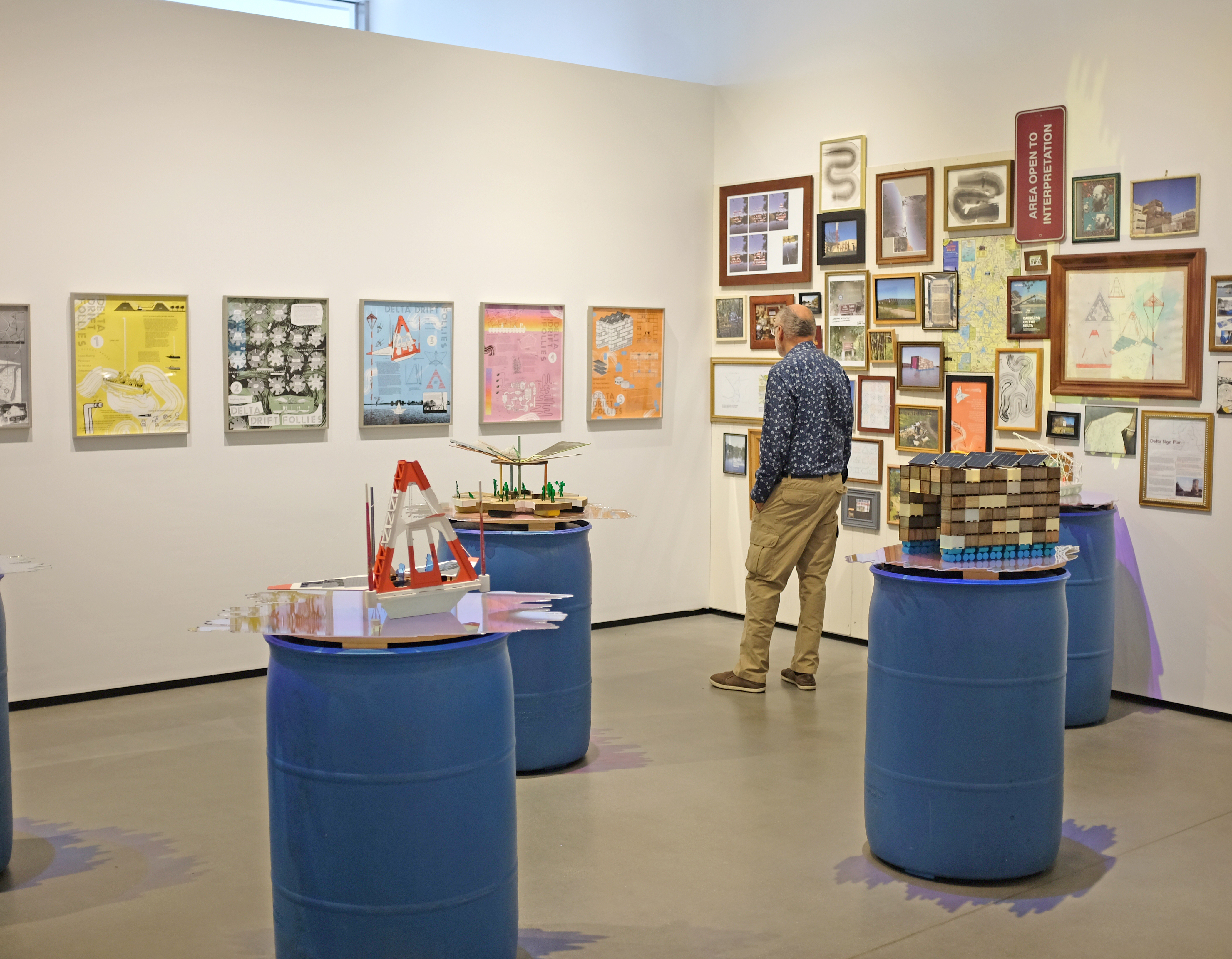 ---
Delta /
The Sacramento-San Joaquin Delta is a complex and vast maze of interwoven waterways, levee roads, agricultural tracts, and townships. Many competing uses and interests are at work here, while countless challenging political and cultural issues overlay the terrain, from water rights to recreational right-of-ways; a contested landscape. The sloughs, rivers, and channels comprise a beautifully confusing waterscape that, according to federal law, constitute a publicly accessible commons: a navigable waterway.
Nestled deep in the heart of the Delta is the defunct Delta Meadows State Park, a postage-stamp size piece of land threaded through with small sloughs and marshes. It connects to the rest of the Delta, and most closely resembles what ecologists say the region once looked like before the massive levee engineering project that drained the marshland and created the islands, tracts, and polders that make up the modern agricultural Delta. It is also a park with a confusing identity: it does not appear on digital map searches like Google Maps, yet is listed as a park on analog paper maps sold throughout the Delta. The park cannot be approached by car - but can be boated or hiked into. Different stories exist as to why the park was closed decades ago - today, an "Area Closed" sign greets visitors, but nevertheless the park remains well-used. Stewardship is an issue handled by residents of the nearby town of Locke, the state does not take care of the land - thereby inviting illegal dumping, squatting, and other illegal activity.

︎This project celebrates the "loose" space of this unique park and imagines it as a fertile and generative place, perhaps the site of a future speculative workshop for producing public engagements of all types, both absurd and practical, crafted here, and making their way throughout the nearly thousand miles of intertwined Delta waterways, offering Delta residents and visitors a series of tools for enhancing, altering, and engaging an appreciation of place.


Drift /
In a maritime sense, to let the current determine the course of your craft. In the tradition of Guy Debord and the Situationists, to drift is to participate in the pyschogeographical "dérive," a day-long meander by friends through an urban landscape, involving "playful- constructive behavior and awareness of psychogeographical effects... ...drawn by the attractions of the terrain and the encounters they find there." - Guy Debord, Theory of the Dérive (1958)

Follies /
A form of ad-hoc, often DIY architecture popular on 18th century European estates, placed within landscapes as sculptural focal points.
""Folly" comes from the old French for 'mad,' and the theatrical and joyful potential of unusual, strange, ambiguous or mysterious structures in the landscape is often desirable in recreational landscapes. However, follies also often require functions beyond the purely visual." -Catherine Dee, Form and Fabric in Landscape Architecture (2001)


---
original poster: 24"x20" screenprint


︎The project is comprised of five interventions represented by models and posters, a site analysis, documentary photography, and other visual research.
Models are fabricated from traditional architectural model-making materials, site-scavenged junk/debris and other found objects, utilizing both analog and digital fabrication techniques.
︎DELTA DRIFT FOLLIES 1:
LEVEE-BUSTING PERISCOPE FOR MINDFUL TRESPASSING
original poster: 20"x24" screenprint
︎DELTA DRIFT FOLLIES 1:
LEVEE-BUSTING PERISCOPE FOR MINDFUL TRESPASSING
This folly is a watercraft adaptation: an absurd and simple proposition for a tool, allowing the user to experience two fields of vision simultaneously and transcend the public/private interface with nothing more than simple, cheap materials. The device is meant to be seen as much as to see - it is intended to celebrate mindful, non-destructive trespassing. A symbolic reference of awareness, a barrier disruptor, a reminder of the importance of looking.
︎DELTA DRIFT FOLLIES 2:
ANYTHING DOCK

original poster: 20"x24" screenprint
︎DELTA DRIFT FOLLIES 2:
ANYTHING DOCK
Anything Dock is a flex space, an open plan dock designed to be anchored centrally in any of the countless wide confluences of river, slough, and channel that exist throughout the landscape. Foodways in the Delta are a complex web, including large- scale agriculture, community gardens, recreational fishing, marina bars and restaurants, and a rich history of cuisines brought by immigrants from around the world for generations. This folly is a space of exchange, celebration, sharing, demonstration, and mixing. Communities may utilize Anything Dock on a rotational basis, scheduling events throughout the year. It is a blank canvas; an open floorplan and shade structure - it can host up to seven craft in slips, and multiple Anything Docks may be linked to form larger pods.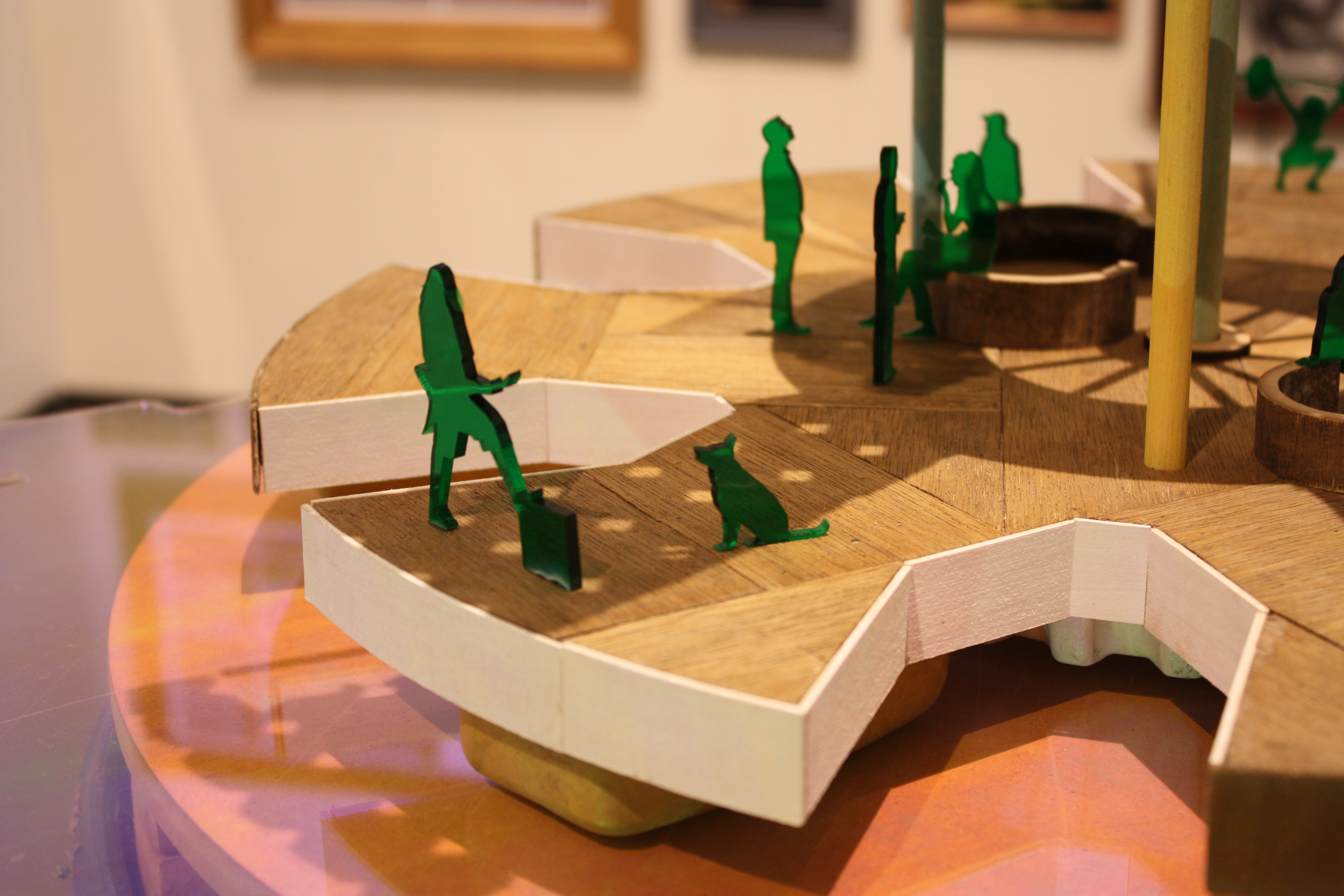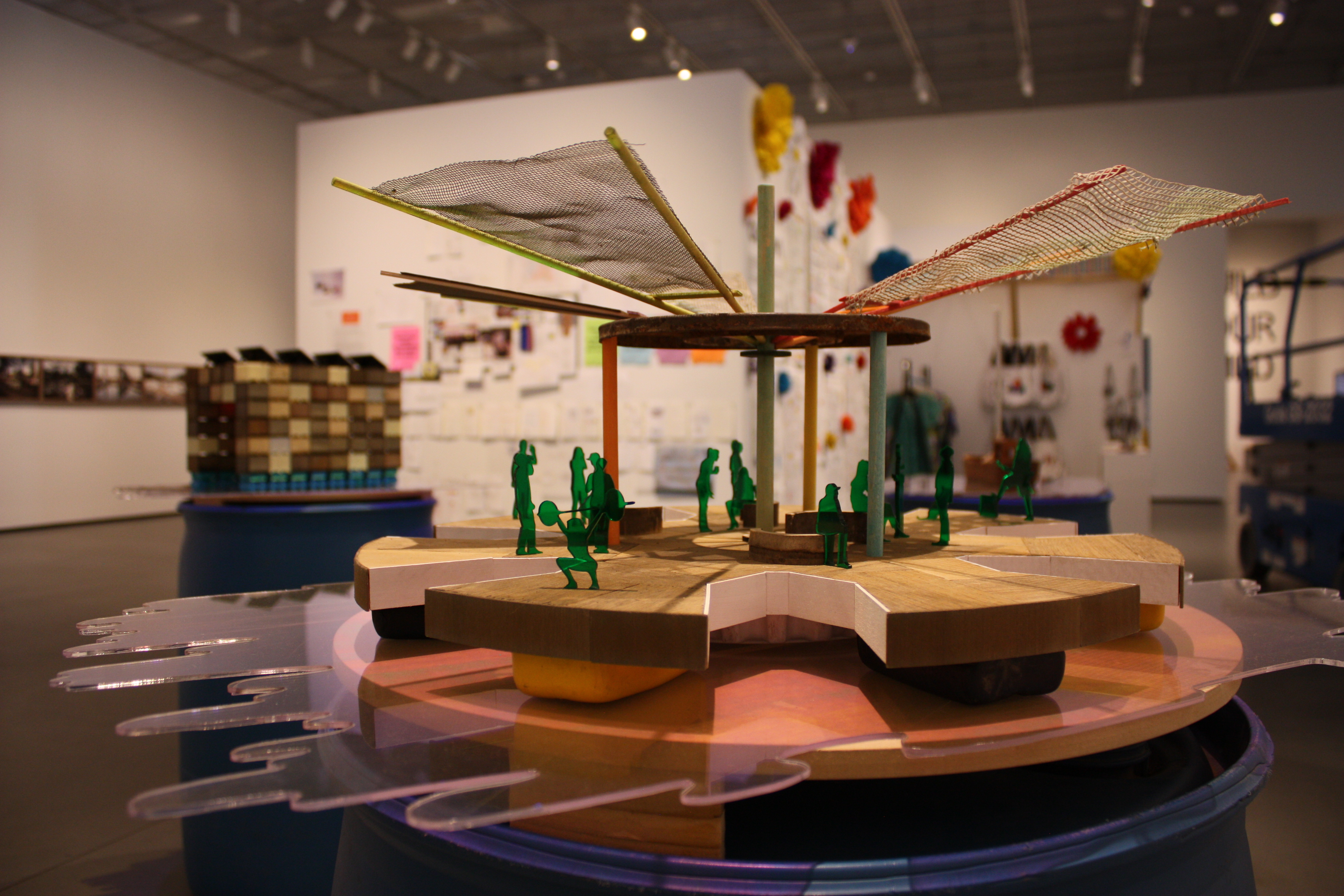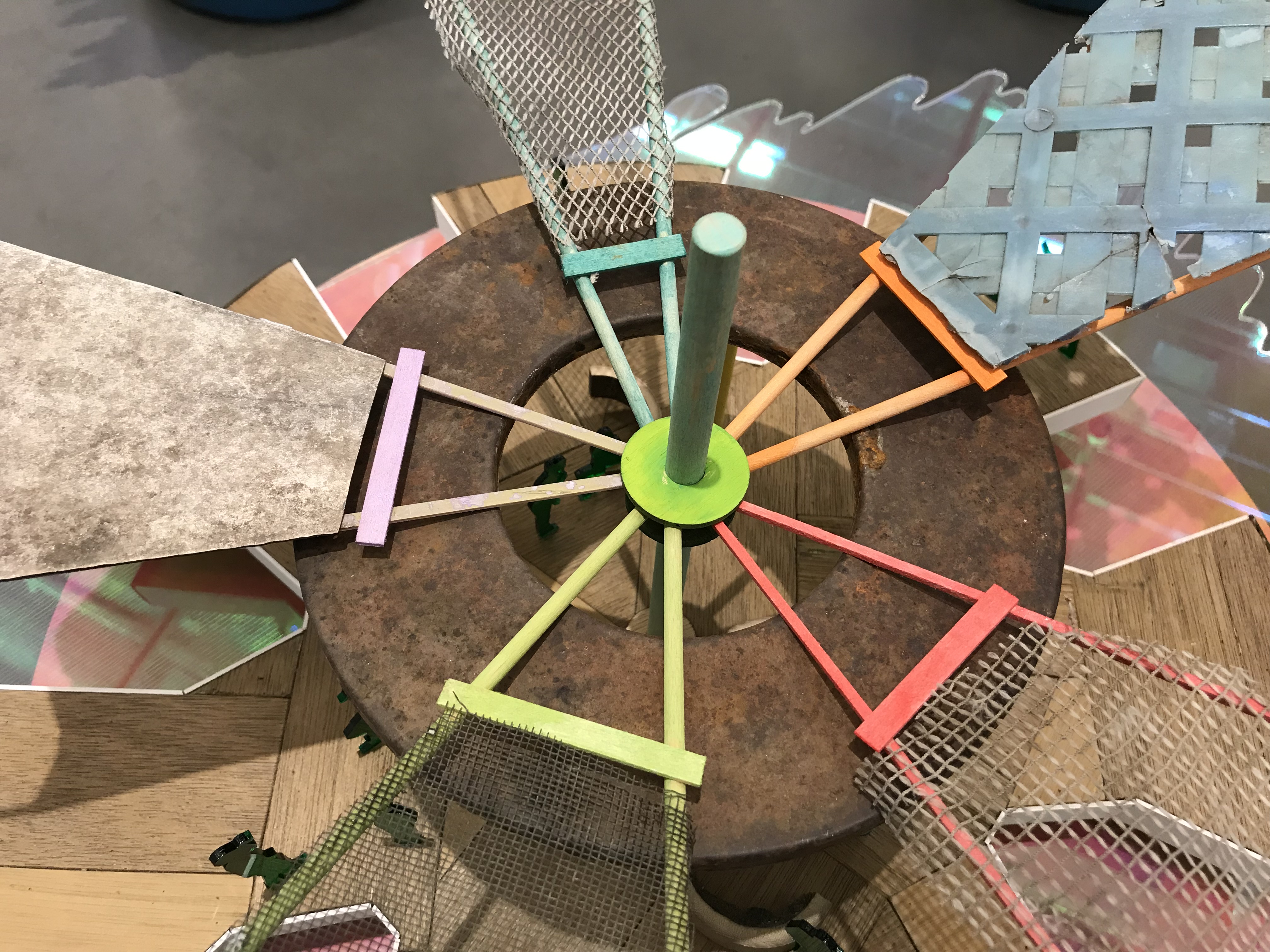 ︎DELTA DRIFT FOLLIES 3:
DELTA PIRATE RADIO MOBILE UNIT
original poster: 20"x24" screenprint
︎DELTA DRIFT FOLLIES 3: DELTA PIRATE RADIO MOBILE UNIT
---
Rising above the landscape of the former Delta Meadows State Park is the Walnut Grove Transmission Tower, once the tallest structure west of the Mississippi, standing at 1549 feet, over 100 feet taller than the Empire State Building. Built in 1962 in a location ideal for broadcasting television signals as far west as the Bay Area and as far east as the foothills of the Sierra Nevada range, it once was responsible for multiple broadcasts. Today the tower is mostly inactive, save for a low-band FM signal. It bristles with mysterious clusters of recently-added wireless equipment like an esoteric family of barnacles. Hovering over the park with an eerie infrastructural beauty, it is visible most days reflected as a perfect mirror-image of itself in the still waters of the slough.
This folly seeks to flip the institutional tower into an ad-hoc community resource: reimagining the candelabra's reflected image in the water as a new architecture, borrowing the form and reversing its defunct status and original purpose. Now a watercraft, the folly acts as a mobile community-based radio broadcasting station, moving throughout the greater Delta. Though technically a pirate radio station, the preferred future imagined here finds the community embracing the station. The music is so beautiful, the programming so compelling, when a boater or resident can see the station appear on the horizon, they know the signal is strongest - they rush to tune their radio to the frequency displayed on a panel on the exterior of the unit. Unlike a typical pirate station that must hide their location, the Delta Mobile Pirate Station announces its arrival as a visual spectacle.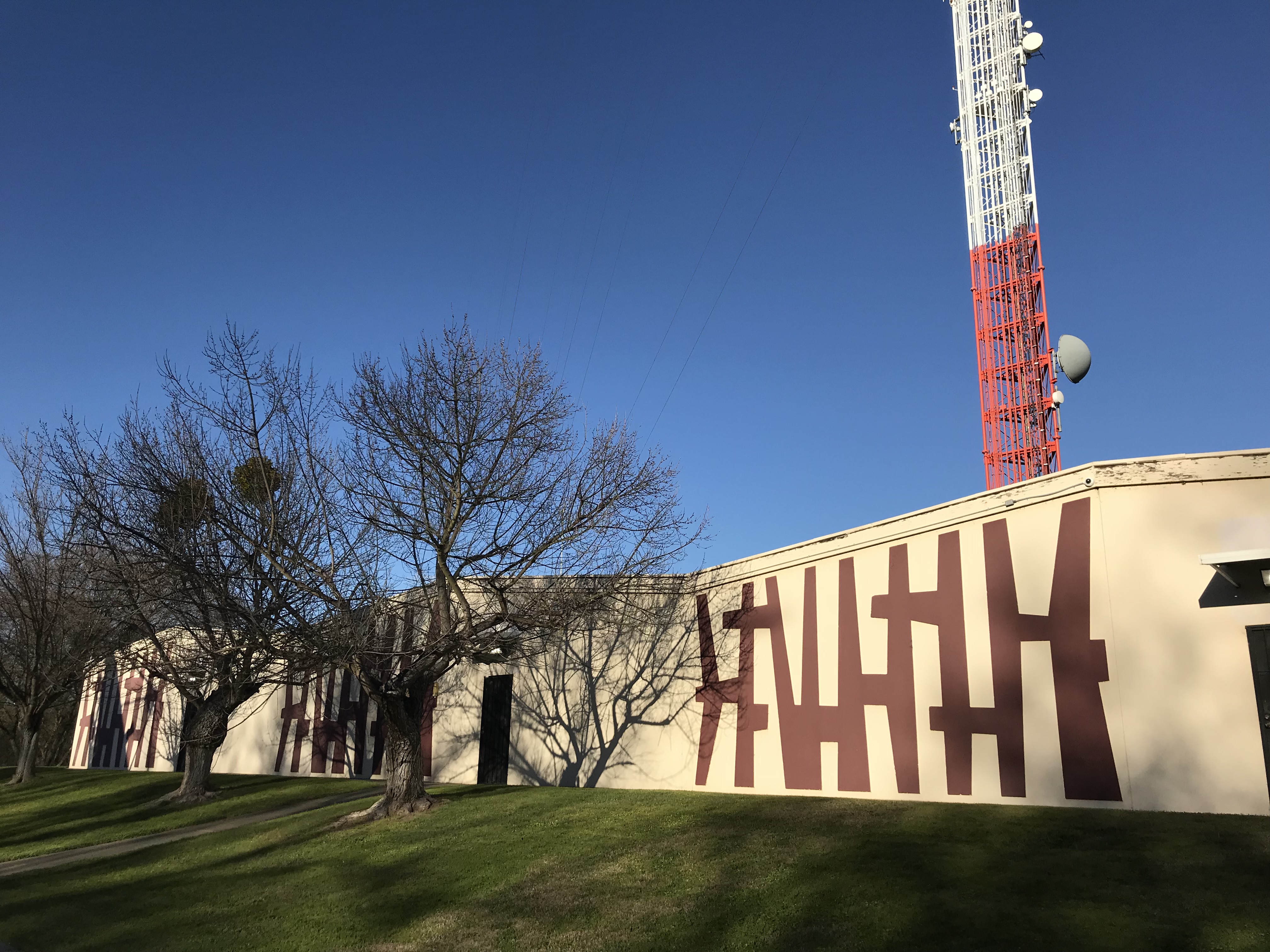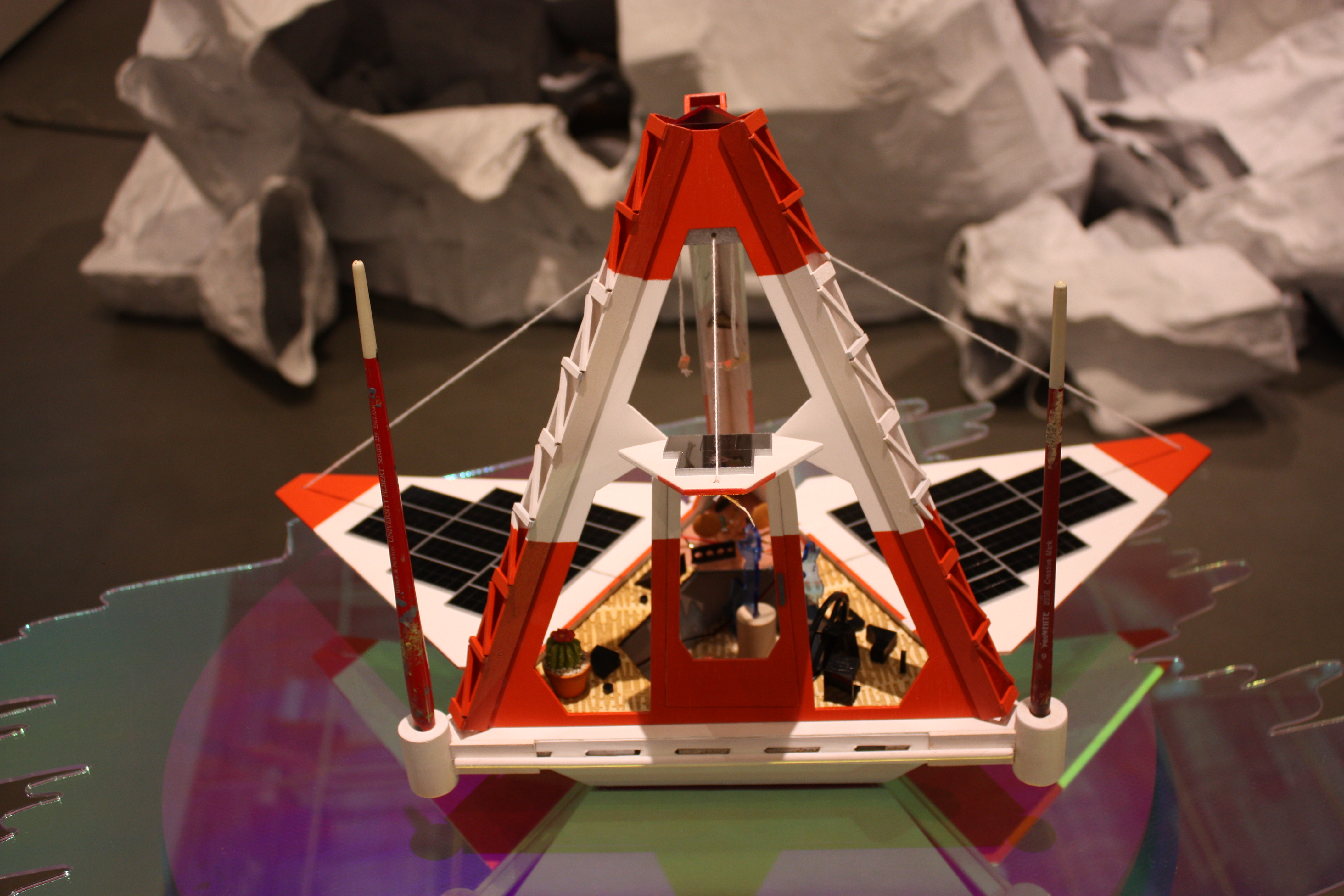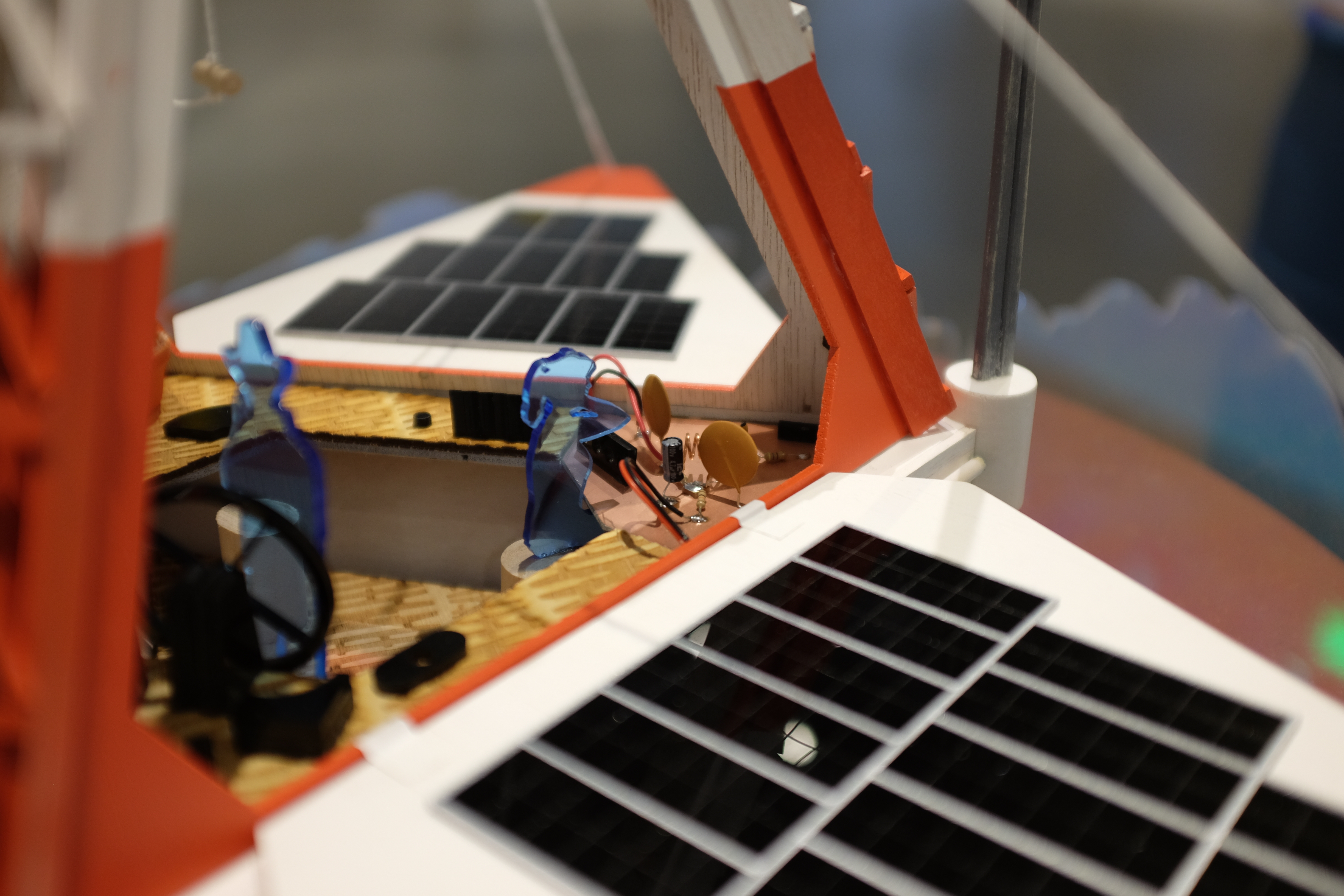 ︎DELTA DRIFT FOLLIES 4:
PAVILION FOR STUDYING AND SMELLING THE SUNSET
original poster: 20"x24" screenprint
︎DELTA DRIFT FOLLIES 4:
PAVILION FOR STUDYING AND SMELLING THE SUNSET
---
Sunsets in the Delta are stunning two-for-one bargains: the still surface of the water in sloughs and open waterways reflects a mirror of the epic colors. Here is a place created to reflect on reflection, the quality of light, the changing of atmospheric conditions, the transition to evening. Guests on the pavilion teach workshops in plein-air painting, hold lectures, guide meditations, or just reflect on the landscape. There's no right or wrong thing to do here.
The olfactory feature of the pavilion is an onboard sensor-driven translating system that utilizes color spectrum analyzers to scan the changing colors of the sunsetscape and link unique color spectrum ranges to a palette of scents that are dispersed through a series of nozzles. These can be programmed to change seasonally or to run a pre-determined sequence. One potential use is to play back a history of the Delta through smells - a story of crops once grown, or native plants once present, but long lost to time, joining the present to the past across a kaleidoscopic sensory bridge, scent and memory being intrinsically linked.
︎DELTA DRIFT FOLLIES 5:
MODULAR SYSTEM FOR RAPID FABRICATION OF FLOATING STRUCTURES

original poster: 20"x24" screenprint
︎DELTA DRIFT FOLLIES 5:
MODULAR SYSTEM FOR RAPID FABRICATION OF FLOATING STRUCTURES
---
This folly - a system: modular, flexible, variable, adaptable, resilient. Ubiquitous in the Sacramento San-Joaquin Delta are accumulations of agricultural apparatus - harvest bins, shipping boxes, irrigation equipment. Boat-owners build DIY docks from levees into public waterways, using plastic or steel drums, or large pieces of styrofoam, as flotation. Solar panels dot the dry landscape, as the Delta receives strong sun most days of the year. These commonly accessible materials are easily remixed into a system for rapidly manufacturing floating structures for a diversity of purposes.
Here the system manifests in a folly related to the sense of touch: a pass-through armature tethered and floating within any number of Delta waterways. The abundant summer sun bakes the rip-rapped sloughs; temperatures in the region often top 100 degrees F. Within the tunnel-like interior, a cooling environment is generated by shade and a misting system. A playful nod to architecture firm Diller Scofidio+Renfro's iconic fog-generating Blur Building, this bricolaged vapor tunnel utilizes a roof-mounted photovoltaic array to power a series of pumps that draw water from the waterway and recirculate it to a series of misters, creating a kinesthetic change in the feel of air on skin and a respite from the sun and heat. At night the interior of the structure is illuminated with a grid of colored lights.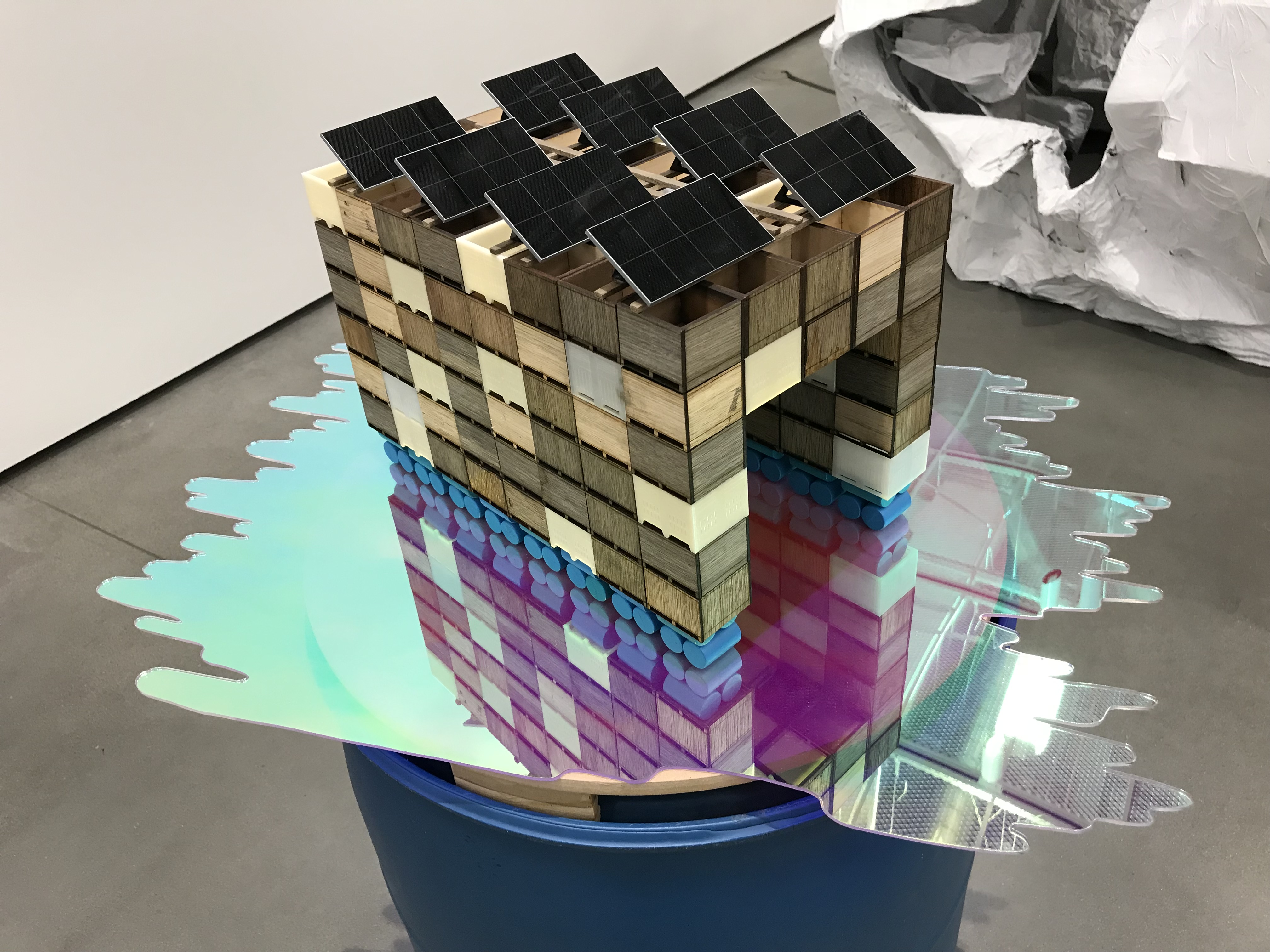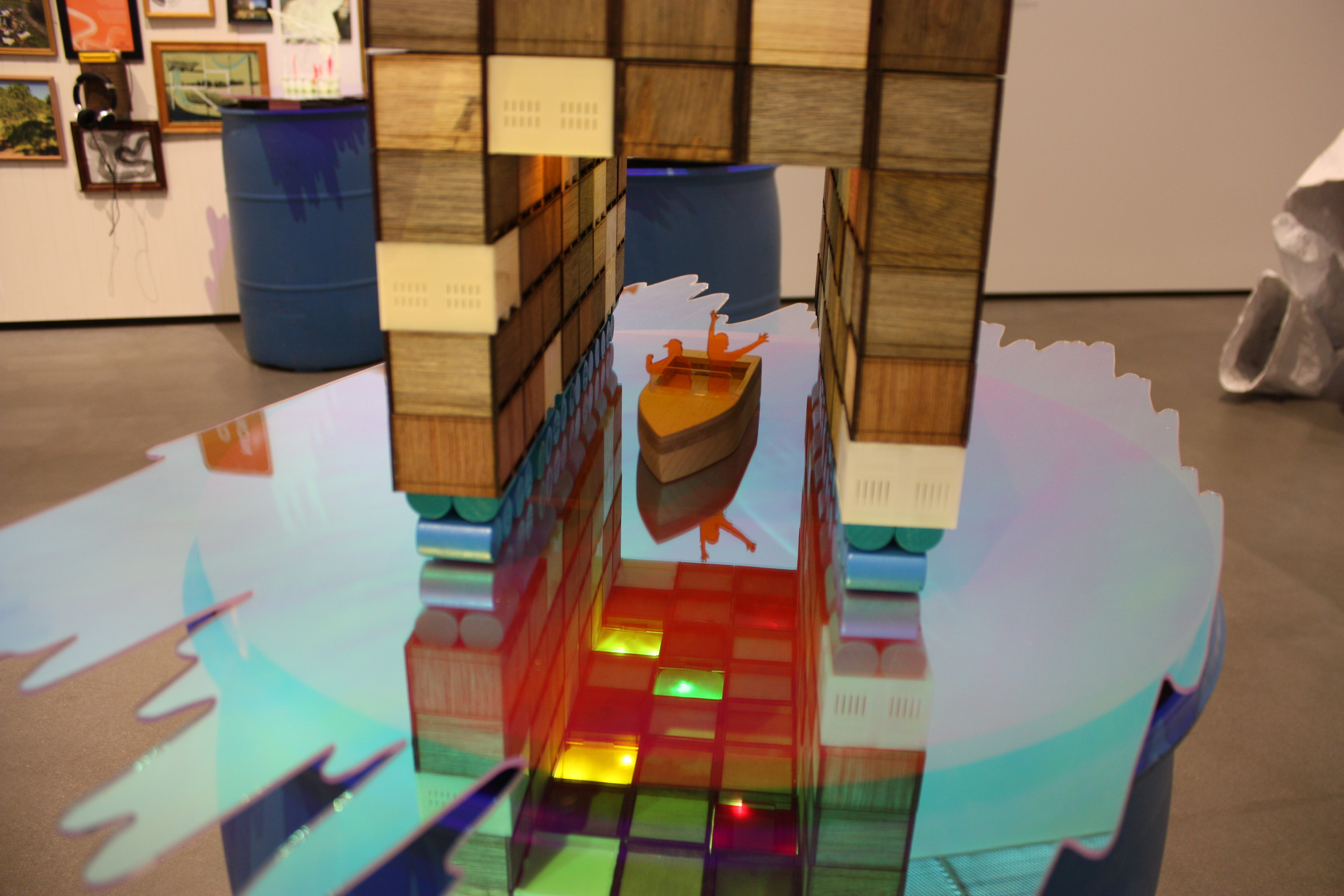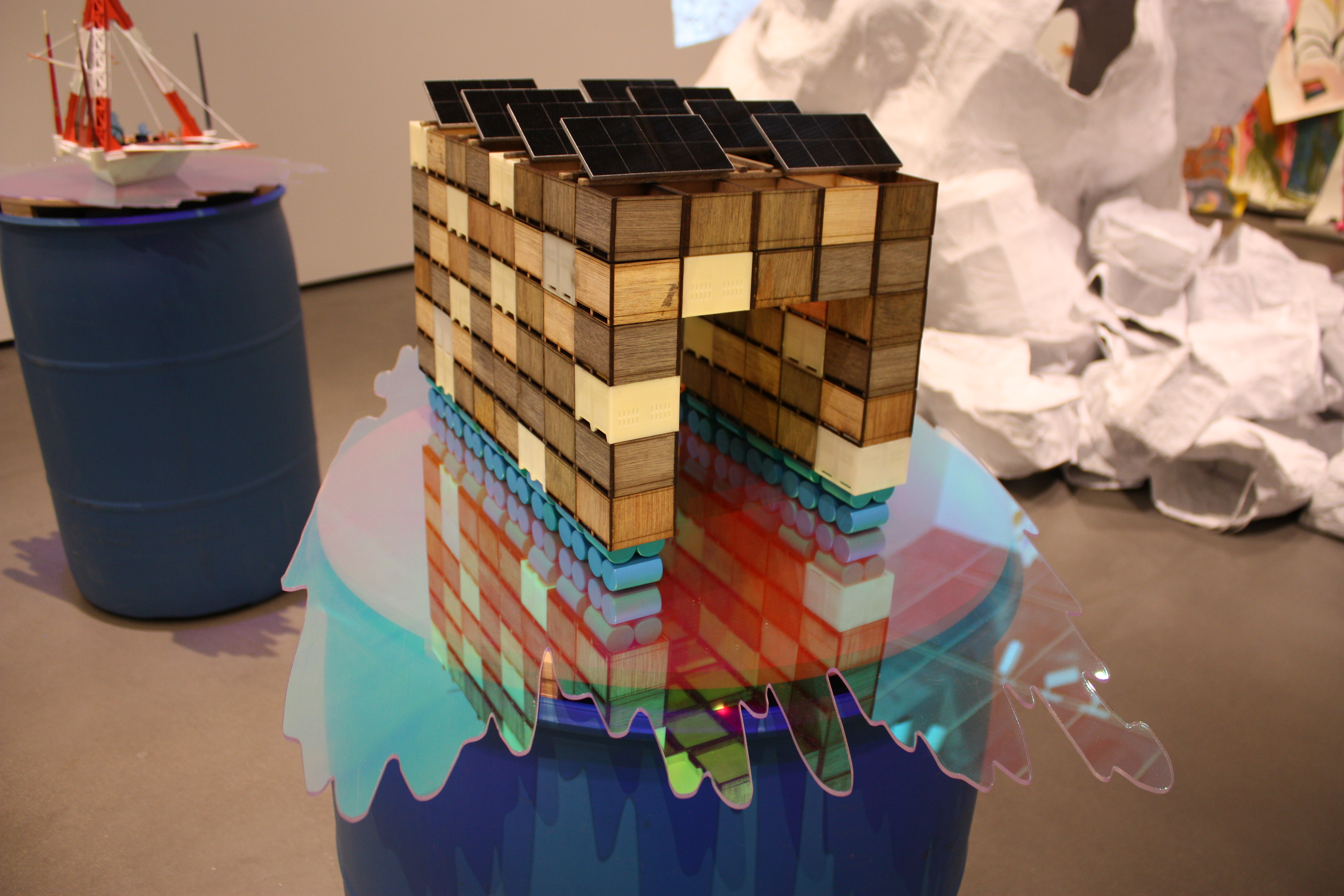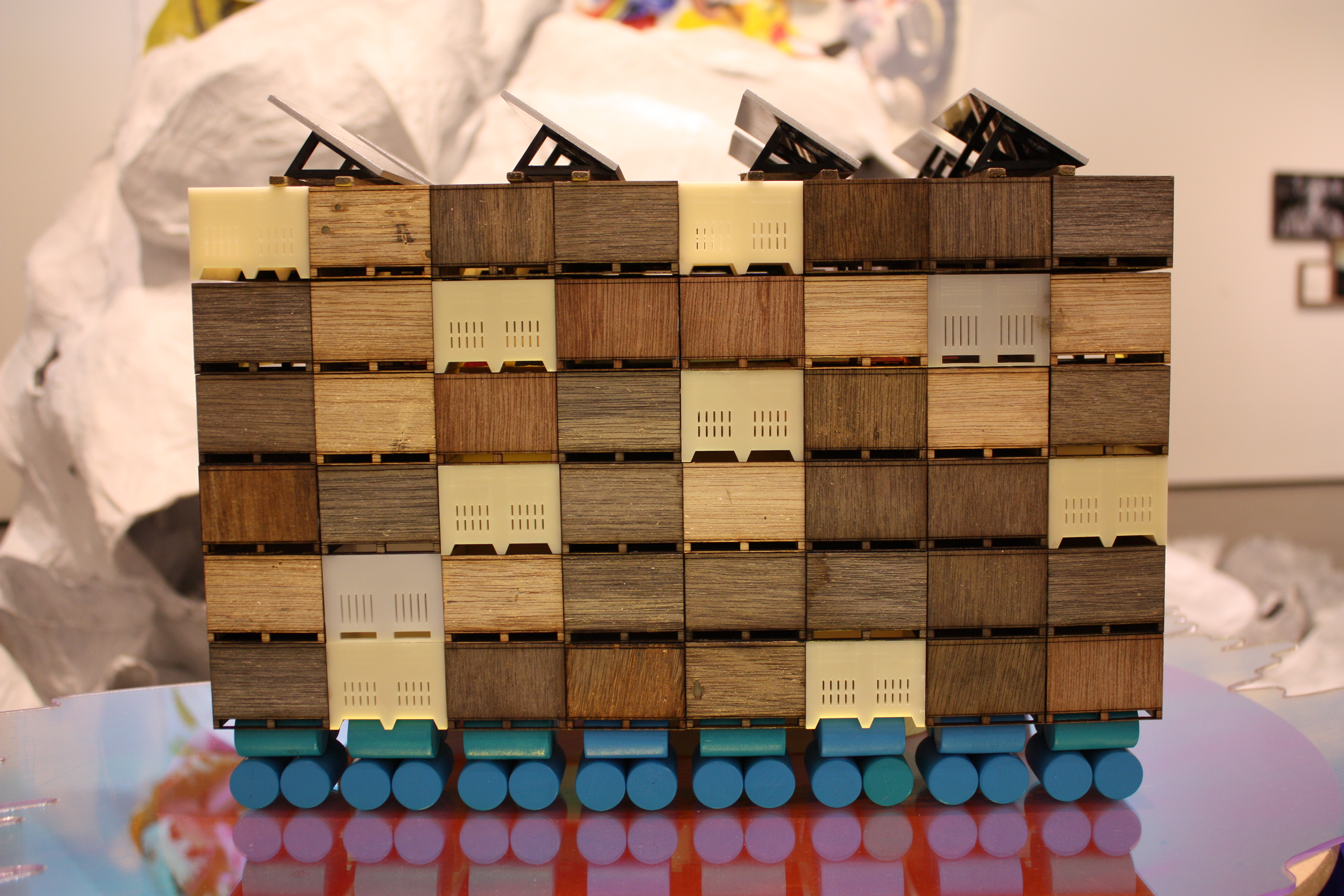 ---
INSTALLATION VIEWS

︎Delta Drift Follies was on view at the Jan and Maria Manetti-Shrem Museum of Art at the University of California Davis as part of the Arts + Humanities Graduate Exhibition, May 30-June 16 2018. ︎More info here and here

︎UC Davis Thesis Committee

Chair: Professor Tim McNeil (Department of Design)

Advisors: Associate Professor Brett Snyder (Department of Design), Associate Professor Claire Napawan (Department of Landscape Architecture & Environmental Design), Professor Mark Kessler (Department of Design)

---

Collaboration with Radio Here


︎Embedded within the larger project of Delta Drift Follies is a collaboration with George Slavik, fellow UC Davis Design MFA student. Slavik's thesis work is an exploration of the community impact of analog FM micro-transmitter radio stations. Radio Here sourced samples of audio from around the world and created a site-specific array that visitors could explore by walking from one transmitter's range to another, carrying tiny receivers, thereby simultaneously exploring physical and sonic space.

︎Each "station" was designed to fit compactly in a 3" cube and mounted atop radio tower models scattered throughout the grounds of the Manetti Shrem Museum of Art. Each low-wattage station had a range of approximately 30 feet in diameter around itself, creating a web of intermeshing sonic experiences for the visitor.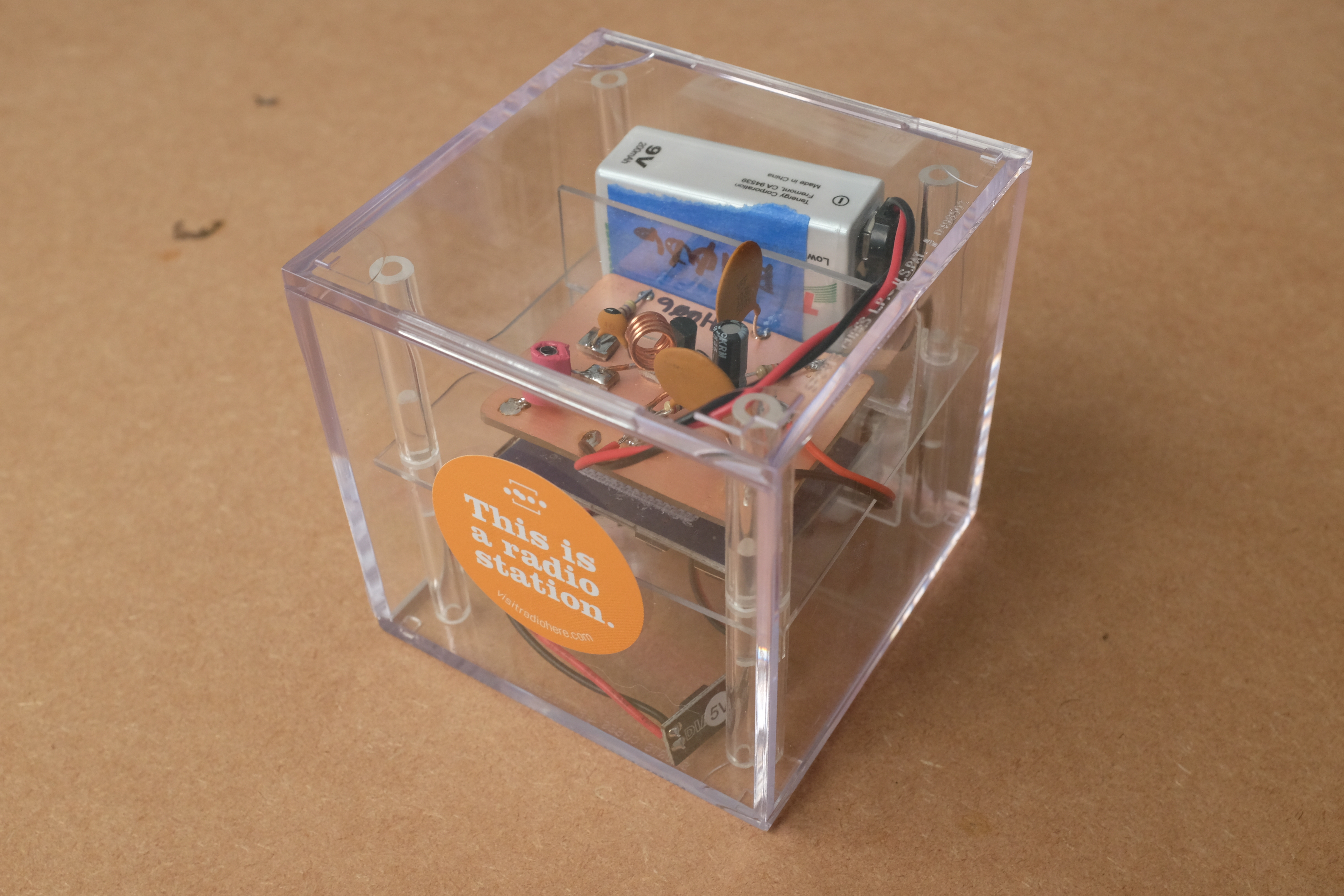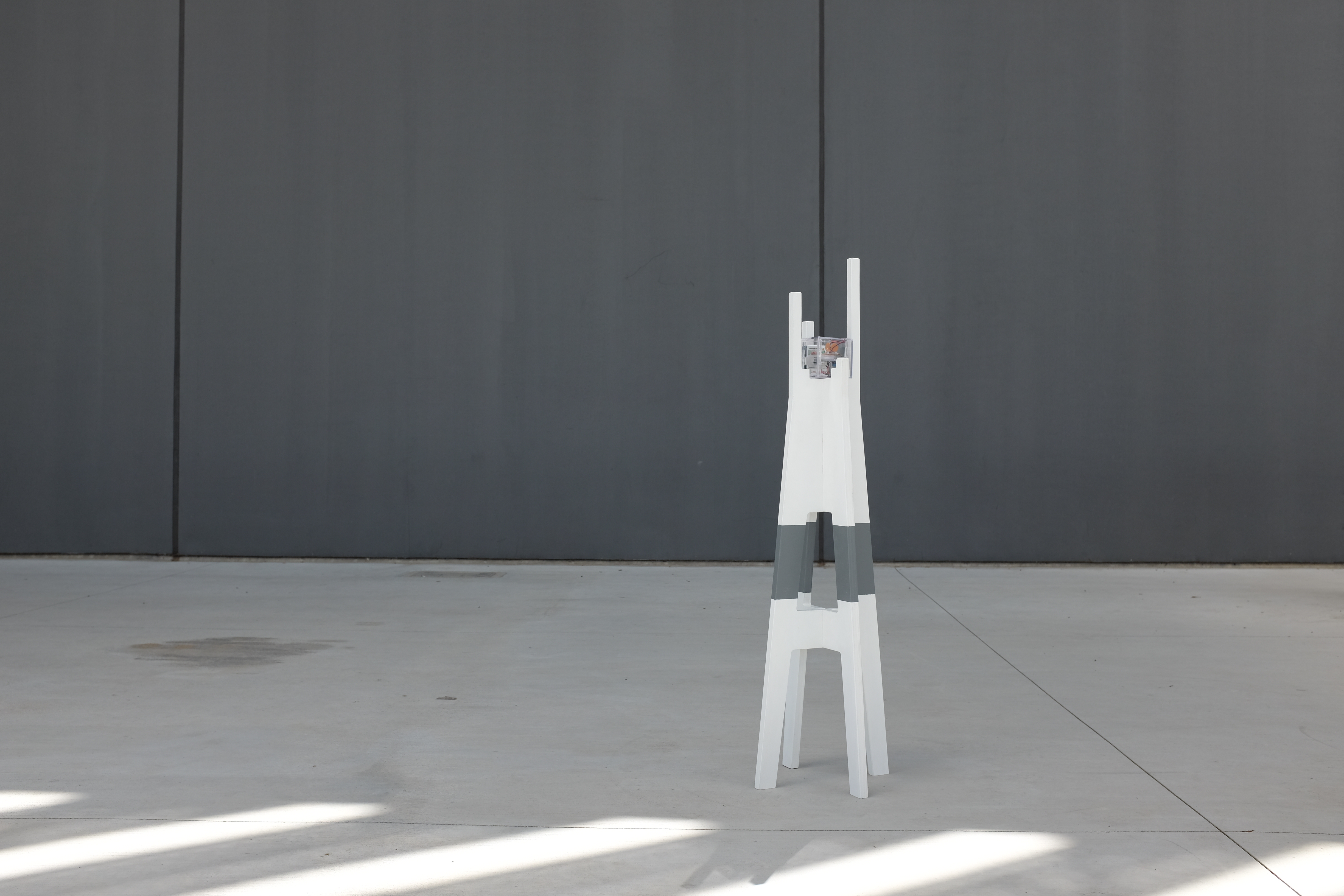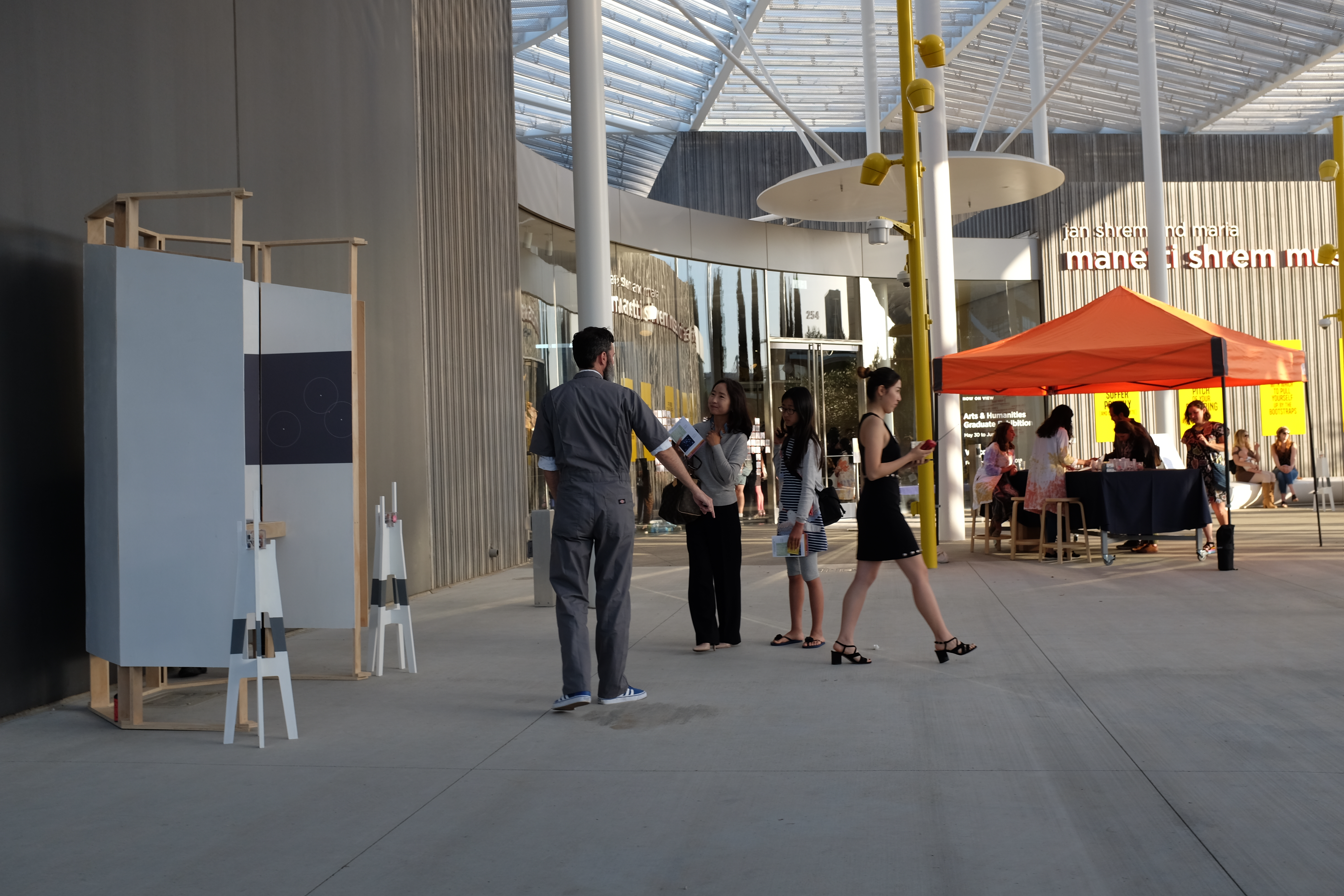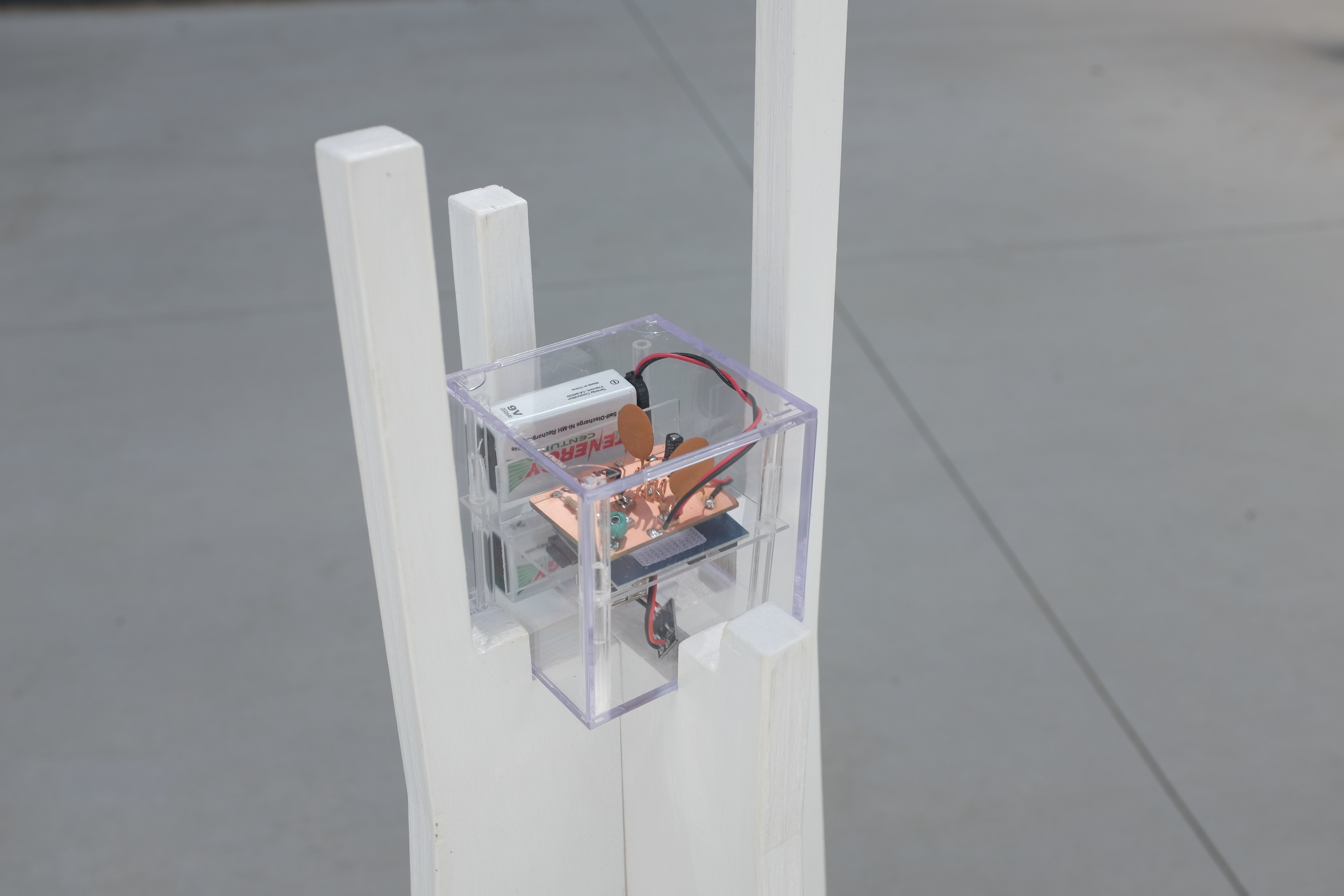 ︎The model for Delta Pirate Radio Station was converted into one of the Radio Here broadcasting units, thereby creating an actual functioning radio station from the model. Slavik modified the command deck of the station by mounting the FM transmitter directly to the counterspace, while batteries and flash drive were concealed belowdecks.

︎The station broadcasted within the range of the Delta Drift Folies exhibition. A portable radio with headphones was available for visitors to listen to the station while they browsed the visual research. The audio on the station consisted of an interview with Russell Ooms, James Motlow, residents of Locke, the town adjacent to Delta Meadows State Park, as well as ambient sounds of the Delta.
---